Football World Cup Offers
Maximize your winnings with special add cash offers, discounts and leaderboards.
Get amazing offers to play fantasy football this World Cup from 20th November – 18th December.
Special Add Cash Offer
Offer details:
Get lucrative offers on add cash everytime you deposit money between 20th November – 18th December.
Get bonus money every time you add cash & play fantasy with bonus money.
Players can add cash 2 times daily.
Season Pass
Offer details: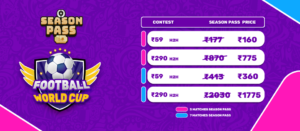 Get two types of season pass this Football World Cup, for 3 matches & for 7 matches.
Each Season Pass is valid on 3 or 7 H2H contests in any match of your choice starting from 20th November.
Players can re-buy or renew the season pass, once 3 or 7 matches have been played as per their season pass is over.
Season Pass will run from 20th November.
Make savings upto Rs.420 on H2H contests with Season Pass.
Leaderboard
Offer details:
Leaderboards will run throughout the Football World Cup
There will be a total of 2 leaderboards – For Group Matches & Knockout Stages.
Total winnings on Leaderboard – Worth Rs.5 Lakhs.
To rank on the leaderboard a player must join a contest of Rs.40 or more value.