Indian T20 League Offers
The biggest cricket festival of India is here! Gear up for another season of the Indian T20 League, starting from 31st March. Big matches, big winnings and bigger offers are now available for you on Gamezy!
Experience the thrill of playing fantasy cricket now with special add cash offers, massive season pass savings & the amazing leaderboard rewards!
Special Add Cash Offer
Offer details:
Get lucrative offers on add cash everytime you deposit money starting 31st March More bonus & more extra cash daily.
Season Pass
Ultimate savings with this year's season pass! Buy this pass in advance for the Indian T20 League and save upto Rs.2233 on Mega contest matches.
Claim this multiple-entry season pass now and make upto 3 teams every match!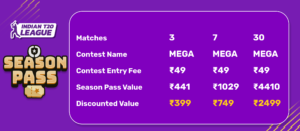 Offer details:
Each Season Pass is valid only on mega contests contests starting from 31st March.
Each multiple-entry season pass allows you to make 3 teams per match.
You can either purchase the 3-match, 7-match or 3-match season pass.
Season Pass will run from 31st March onwards.
Save upto Rs.2233 this Indian T20 League season with the mega contest season pass.
Leaderboard
Play with the elite fantasy cricket players & win exclusive weekly rewards with the Gamezy Indian T20 League leaderboard! Stand a chance from Rs.5 Lakhs every week for the entirety of the Indian T20 League.
Exclusive Getaway trips are also included for fantasy players this Indian T20 League season with the 'Fantasy Passport' program! Assured winnings guaranteed for fantasy users on Gamezy with a trip to Goa, Dubai, Bangkok or even Las Vegas!
Offer details:
Leaderboard will run throughout the tournament.
Total winnings on Leaderboard – Worth Rs.40 Lakhs, distributed with Rs.5 Lakhs of winnings per week.
How do you score points? We use this formula: Team Points + (Buy-in amount x5) = Leaderboard points
Users will have to join contests of Rs.40 and above to qualify.